Preserving Summer (Produce)
As hard as it is to believe, summer is nearing its end. We'll miss the sun and balmy days, and bounties of fresh delicious produce at our fingertips. In an effort to hold onto summer (just a while longer), we asked our culinary director, Michael, how he preserves his favorite fruits and vegetables. 
Q: What's your favorite summer vegetable/fruit?
A: It's hard to pick just one, so here are my favorites
- Tomatoes
- Blackberries
- Strawberries
- Peaches
- Cherries
- Cucumbers
- Peppers
- Fresh Herbs
Q: How do you increase their longevity in your pantry?
A: Here are four of my favorite recipes.
Strawberry Shrub - Great for cocktails both alcoholic and non-alcoholic

- 1 C Water
- 1 C Sugar
- 2 C Strawberries (or any fresh berry!), sliced
- White wine vinegar or champagne vinegar
Heat water and sugar in a pot over low heat until sugar is dissolved.
Add berries and simmer for 15 - 20 minutes, stirring occasionally. Remove from heat and let cool completely. Once cooled, strain to extract all the juice; toss the seeds. Measure the juice and add half that amount of vinegar. Pour into ball jars and store in the fridge. 
When mixing liquids for your cocktails/mocktails, we recommend 1:1 ratio of shrub to alcohol/sparkling water (or 1:2 depending on your taste preferences).

____

"Quickled" Cucumbers - Great for sandwiches, adding to ramen/soba noodles, or with fried chicken
*** Ingredients can be scaled up or down, based on cucumber volume
- 2 Large pickling cucumbers, sliced thin on a mandoline 
- 1 Small shallots, sliced thin into rings
- 1 tsp Mustard Seeds
- 1 tsp Minced Garlic
- ½ tsp Agave
- ½ tsp Red Pepper Flakes
- Apple Cider Vinegar
- ½ tsp Mushroom Powder
- Salt + Pepper
Mix cucumber with about ¼ the amount of shallots by weight. Stuff a 16-ounce ball jar to the top with thin slices of cucumber, leaving about ½" space at the top. Add mustard seeds, minced garlic, agave, red pepper flakes, mushroom powder, and a pinch of salt and pepper. Pour in apple cider vinegar to cover. Seal and shake well until the ingredients are incorporated. Let sit in the fridge for a day before using. 
____
Fresh Herb Pesto - For pasta, sandwich spread, roasted veggies
- 3 Cloves garlic, roasted (see below)
- 1 C Fresh basil
- 1 C Fresh parsley
- ½ C Fresh oregano
- ½ C Pine nuts, toasted (sub with walnuts, pecans, or almonds)
- ½ C Parmigiano-Reggiano (or sub ½ C nutritional yeast for vegan), grated
- ¾ C Olive oil, plus more for garlic
- Salt + Pepper
Heat oven to 350 degrees. Toss garlic in a healthy drizzle of olive oil, and toss with salt and pepper. Roast for 10-15 minutes until browned and softened. Let cool. 
In a blender or food processor, blend roasted garlic, basil, parsley, oregano, pine nuts, Parmesan or nutritional yeast, and a pinch of salt and pepper. Slowly drizzle in olive oil until smooth (you may need to add a little more). Freeze flat in ziploc bags or in an ice cube tray, then vacuum seal frozen cubes into individual servings.
____



Simple Marinara - Use to coat pasta (gluten-free alternatives like chickpea pasta), as a base for bolognese, as sauce for a cauliflower pizza
- 6 Cloves garlic, roasted (see below)
- 5 lbs Tomatoes (any variety will work!), cored and cut into halves or quarters, depending on size
- 2 Yellow onions, thinly sliced and caramelized (see below)
- Balsamic vinegar to taste
- Salt + Pepper
- Olive oil
Heat oven to 350 degrees. Toss garlic in a heavy drizzle of olive oil, and toss with salt and pepper. Roast until browned and soft, about 10-15 minutes. Keep oven on for roasting tomatoes. Coat the tomatoes in olive oil, salt and pepper and roast for 20-30 minutes or until soft. 
Set a large non-stick pan over medium-low heat. Add a couple tablespoons of olive oil, and add sliced yellow onions, salt and pepper. Stir occasionally, and cook until caramelized, about 20 minutes. 
Add cooled garlic, tomatoes, and onions to a pot or large container, and blend until smooth using an immersion blender. Slowly add balsamic vinegar to taste. Season with salt + pepper to taste. Alternatively, process sauce in batches in a food processor. 

Preserve in jars or freeze.
Q - Which do tools or equipment do you find most helpful to have at home?
A - The list could go on forever, but these are my most useful ones: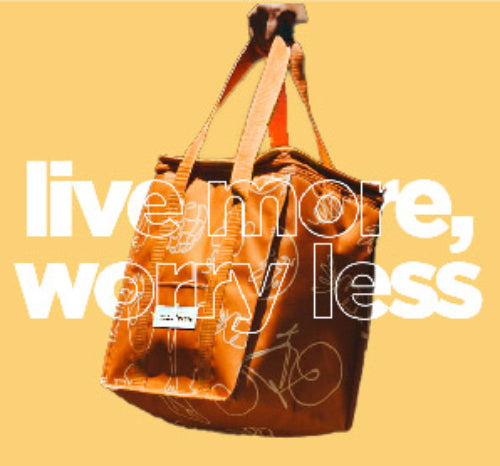 FOOD + BEVERAGE
Not sure where to start
take our quiz to find the program
that's right for your lifestyle + goals