How to Know If a Restaurant is Eco-Friendly—And 5 DC Spots to Try
It's April, otherwise known as Earth Month, and according to Environment Journal, more than two-thirds of small- and medium-sized businesses are eager to become more sustainable. When it comes to restaurants specifically, there are a number of measures they can take to become more environmentally friendly. 
Here are a few criteria to look for when voting with your dollar—and some local spots that are making progress.  
The business is conscious of basing menus on local and seasonal fare.
By selling food sourced via local farms and ethical supply chains, restaurants can reduce their carbon footprint, avoiding fuel-intensive processing and practices that lead to destructive pollution.
Find it at: Commissary, 1443 P St. NW
The menu here features local, grass-fed steak, poultry and dairy products, and much of the produce is sourced from the parent company EatWell's private farm in La Plata, MD. EatWell's restaurants are also certified through the Surfrider Foundation as ocean-friendly, meaning they abide by a set of criteria that minimizes the use of plastic, prioritizes energy efficiency and requires serving Seafood Watch-sanctioned products.
The menu is plant-forward with sustainable meat and fish.
By emphasizing plants over meat, restaurants can do their part to make a shift towards food that's less water-intensive, emits fewer greenhouse gases and takes up less land. If meat and fish is still on the menu, eco-conscious restaurants take care to source sustainably.
Find it at: Equinox, 818 Connecticut Ave. NW
For five-time James Beard Award nominee chef Todd Gray, vegetables aren't an afterthought, side dish or relegated to the salad section. In fact, the restaurant has an entirely plant-based tasting menu at dinner and a plant-based Sunday brunch. 
Fair-trade products are front and center. 
In a nutshell, products with a Fair Trade Certified seal meet rigorous social, environmental and economic standards, including providing for safe working conditions and ensuring environmental protection and sustainable livelihoods for their workers.
Find it at: Zeke's Coffee, 2300 Rhode Island Ave. NE and 731 15th St. NW
Zeke's Coffee is a family-owned and operated small-batch coffee roastery that specializes in organic, fair trade and specialty grade Arabica beans. The team also uses an environmentally friendly Loring coffee roaster, consuming 80% less energy than your typical roaster. You can find both beans and already-brewed coffee to go.
Takeout containers are recyclable or compostable. 
Half of all plastic produced (more than 380 million tons) is used for just a few minutes and then tossed. One of the many unfortunate environmental repercussions of the pandemic has been the influx of take-out and delivery. While this was a necessary safety measure, it also resulted in a lot more to-go container use and waste. 
Find it at: Busboys and Poets, locations across D.C., Maryland and Virginia
This local chain has not only made a firm commitment to sustainable practices—such as using green cleaning supplies, compostable straws and 100% eco-friendly to-go items—it also recycles its cooking oil for biofuel and uses 100% renewable wind energy at the Hyattsville and D.C. locations. (Our co-founder Ariane goes here for every birthday to order the vegan nachos!)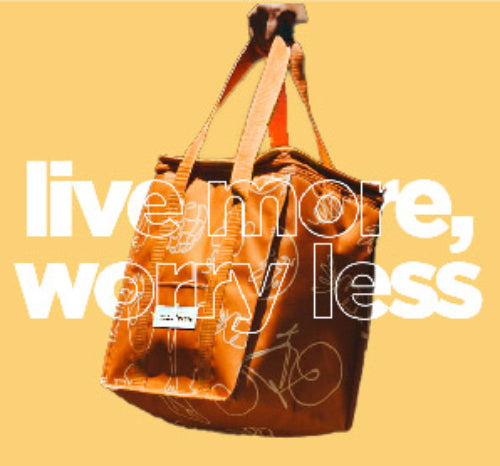 FOOD + BEVERAGE
Not sure where to start
take our quiz to find the program
that's right for your lifestyle + goals